North Hill, 24.07.17
6 members turned up for today's round. Ian Fraser was a clear winner on 37 with Soren Nielson coming in second on 29.
No photo again.
---
Lanna, 24.07.17
Another hard day at the Lanna Office. A dozen members arrived (including 3 of the girls) so we had 4 groups of 3 and the rounds were pretty quick. But what is the matter with us all? Scores were dismal and only one person managed a sub-100 stroke round (Well done Nigel). Balls were not rolling on the fairways because of the recent rain I suppose – any excuse!
The winning Stableford scores were 34, 33, and 31 from Keith Taylor, Lawrence Nahlik, and Nigel Stubbs respectively. See you all next week for more of the same unless numbers increase and the game format can be varied a bit.
---
Mae Jo, 24.07.17
13 players for our stroke round today. We welcome back Kim Anderson for a 2 week break from Australia. The results are in a tie for 3rd on net 73 was Craig and Kuzie in 2nd was Steve on net 72 and still holding form on net 70 was Adam. Well done people. Wednesday will be stableford, hope to see a few more faces.
---
North Hill, 21.07.17
There were 18 members for todays stableford round under cloudy skies but with no rain. No takers for the birdie hole once again. Yung's birthday group took a majority of the prizes with Dao coming home with 36 points just beating Smiley Haddon with 35 points and third places were three tied on 32 points Camilla, Yung & Milton. Well done all concerned and see most of you next week.
---
Mae Jo,21.07.17
A big turn out today with 26 members playing in very humid conditions. We had a tie for 2nd with Graham and Ronny on 38 points and our winner for today was Rob on 40 points who just missed a hole in 1 on 17 by 10 inches. Well done people, have a good weekend and see you all again on Monday for a stroke round.
---
Inthanon, 19.07.17
13 members turned out for a great day and the rain only appeared after every one was in.
The ladies showed the men how to score on Moving Tee Day where everyone moved one tee back. Tayakorn won with a creditable 40 points and Denise second on 35.
---
Maejo, 19.07.17
This Wednesday we had (14) members playing in a Stableford Nassau competition. For a change we completed our entire round without and rain.
As for the results taking the front nine holes was Alex Stewart with (17) points with the back nine holes going to Nigel Stubbs with (20) points. Our overall winner today was Ronny Peters posting a score of (36) points.
Hats off to all of today's winners and we will see you Friday the 21st for a straight stableford competition.
---
Lanna, 17.07.17
Not much of a turnout today probably because of the rain that kept up until the 5th hole. Two groups trudged around in the water soaked fairways for over 4 hours with not much to show for their efforts.
Allan Gariano nudged out Julian Wing with 28 points citing that he started and finished with the same ball. That's easy Allan – you just use different balls on holes 2-17. Winner was Roger Mack, who hasn't played the course for 5 years, with 33 points.
---
North Hill, 17.07.17
We had 5 members and no guests for today's Stableford round. Today we had a little rain not enough to cause concern but enough to make it a pleasant round. The "pleasantness" was not reflectively of the scores unfortunately. The winner today was Ian Fraser on 31 with second going to Denise Reynolds on 30.
Because of the less than incredible scores it was decided that a photo was not appropriate.
---
Mae Jo, 17.07.17
A wet start to our game today for our 16 members and it was off and on for the whole round. Taking out the front on a net 33 was John, the back was won by Adam on net 32 (76 off the stick) but our clear winner today was Frank with a net 67….well done guys. Wednesday will be stableford nassau. Hope to see you all then.
---
North Hill, 14.07.17
There were 15 golfers at todays stableford event and it was nice to catch up with Hayden after the game back in country for a few weeks. Todays winner was Leon Smiler with 39 points followed by Yung Beece playing to handicap with 36 points and coming in third was Peter (Smiley) Haddon with 34 points just beating out the captain and a couple of others. I will agree with the Maejo report and the comment "GO THE MIGHTY MAROONS" albeit to the detriment of the few blues supporters, sorry about that Hayden and Brian. No takers for the birdie hole on #15 a tough hole we expect to last for a while. Well done all concerned and we will see you all again real soon .
---
Mae Jo, 14.07.17
A big turn out today with 26 members for our stableford comp. In 3rd was Jack on 35 points and a tie for 1st on 37 points was Nigel and Jan. Jan had to leave early but donated 900baht to our charity Well done guys. Have a good weekend see you all again on Monday for stroke nassau. GO THE MIGHTY MAROONS !!!
---
Inthanon,12.07.17
A dozen members turned out today and went out in 4 three balls playing a scoring system only Ashley seemed to understand. The weather was great and everyone didn't appear to be held up.
Winner in Stableford scoring and (5-3-1 scoring) was Ashley on 40 points pipping Allan in second on 39.
---
Mae Jo, 12.07.17
17 members and 1 guest for todays 2 man team event. In 2nd place on 43 points was Adam ans Kuzie and our winners today were Garry and Andy on 47 points. Well done people. See you all again on Friday for a stableford comp.
---
North Hill, 10.07.17
Only 5 members today — the winner was Ian Fraser on 33 with Ralph Hamilton second on 29.
No photo this week.
---
Lanna, 10.07.17
Only 7 members at Lanna today, probably because the skies were grey and there was a sprinkle of rain. Not much to be worried about though and the 2 groups completed their rounds in about 4 hours. Outright winner was Lawrence Nahlik with 38 points and a handicap adjustment, while Keith Freeman managed to come second with 35 points.
There is nothing to report on the supposed imminent re-development of the course, with most of the chatter being about the proposed new caddie figure-hugging uniforms that they were told about last week. Many of the caddies are now talking about dieting which will be difficult considering that they never stop eating.
---
Mae Jo, 10.07.17
13 members played in our comp. today in what was plesant weather apart from the odd light sprinkle of rain. The scores were not too flash however in a tie for 3rd. on 31 points was Adam and Frank in 2nd was Craig on 32 points and our winner was Barry on 33 points. Well done guys. See you all on Wednesday for a 2BBB comp.
---
Mae Jo, 07.07.17
A big turn out for todays stableford comp. today with 23 members and 1 guest. In 3rd on 36 points was Kuzie and a tie for 1st. on 37 was Frank and Nigel. Well done guys. The course will be closed at Mae Jo in August on the 16-18 for the Thai LPGA and again on 21-27 for the Singha Chiang Mai Open, also the driving range will be closed fom 10th July till the 27th. of August. We will make some other arangements for golf on those dates.
---
North Hill, 07.07.17
There were 15 members playing in our monthly Stableford Nassau competition today. Overall winner was Brian Heuston with 43 points. Front Nine winner was Roscoe Butler and Back Nine winner was Yung Beece. Finally after 10 weeks the birdie hole was taken out by Jack Cooper.
We were advised by course management that the Ladies Singha Pro Tournament will be held at the course between 8-11 August so we will be unable to play our regular Friday round. Be advised that it is free to view the tournament at the course.
---
Mae Jo, 05.07.17
15 members for our stroke round today in humid conditions. Some good scores were recorded, in 3rd on net 71 was Nigel in 2nd with net 70 was Adam and our winner today was Jeff on net 68. Well played guys. See you all again on Friday for a stableford event.
---
North Hill, 03.07.17
Today we had 8 members for a very pleasant Stableford round. First place went to Ian Fraser on 38 with Brian Heuston and Milton Reynolds tieing for second place on 33.
---
Lanna, 03.07.17
It was a very enjoyable round of golf at Lanna today. It was our monthly Stroke-play event around courses 3 and 1 and conditions were excellent. We had 14 members and all 4 groups finished in around 4 hours even though we had a slow group of "little people" being coached for the first 9 holes.
Kim Stogner and Jomo Mac Dermott tied for 3rd place with Net 74, and Leon Smiler came in 2nd with Net 73, but in 1st place with Net 70 was Nigel Stubbs with a near perfect textbook round earning him a slightly lower handicap index.
Now there are rumours flying about from Caddies that Lanna Golf Course is doing some deal with Singha Corporation, and that the course is going to be re-modelled starting with Course 1 as early as next month. New Caddie uniforms and probably a whole host of other changes – apparently there is a big Caddie meeting coming up soon. The Office staff that I questioned knew absolutely nothing about this major event so perhaps today is April 1st in the Lanna Caddyshack. Anyway, I shall endeavour to find out more – watch this space!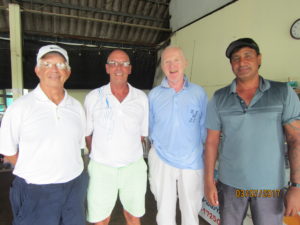 ---
Mae Jo, 03.07.17
14 players for todays round of stableford nassau in rather plesant conditions. The front was taken out by Kenny on 19 points, the back also with 19 points was Jeff and Kuzie and our overall winner was John on 39 points. Well done to those people. Hope to see more of you on Wednesday for a stroke event.
---