2016 Annual Tournament & Awards Party
Last evenings "2016 Annual Awards Dinner" was attended by 73 members / partners and (3) guests along with numerous children.  All aspects of the party from the hotel staff, sumptuous buffet, to the continual flow of beer was a total success.  At this time we like to thank all the staff from the Imperial Ping Hotel for making this another successful occasion.   In addition the CMSG committee extends thanks to all the members who also made this a most memorable and enjoyable evening.
The following are the "Winners" of the 2016 CMSG Annual Tournament: 
2016 Stableford Winner Female Division:
This year we had a tie for 1st place being shared by Dao Beece and Sarinee Livingstone both posting a score of 104 point
Dao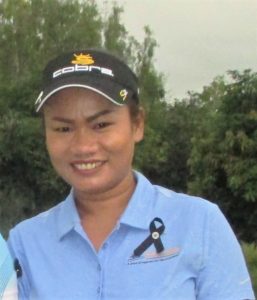 Sarinee
Dao accepting the trophy's for this years champion ( Sarinee not in attendance)
2016 Stableford Runner up Men's division:
Barry Ochitwa (34+34+35= 103 points)
2016 Stableford Champion:
Graham Adams ( 38+35+36= 109 points)
2016 Gross Runner-up:
Ron Peters (posting gross scores of 80,84,80 for a total of 244)
2016 Gross score Champion:
The all smiles winner Nigel Stubbs (posting scores of 76,85,80 for a total of 241)
2016 Player of the Year:
Totaling 7735 points during 2016 our new champion Julian Wing
Congratulations goes out to all of this years winners and also to all the members for making 2016 another successful year!
Misc. photos:
Past Events: