The Player of the Year is defined by the following:
Each Member who's membership is current and has an established Handicap with the CMSG. The Competition will finish for the current year after the last day of the Annual Tournament. The PoY standings will be published on this page each month.
Only Stableford, Stableford Nassau, Matchplay vs. Course and Stroke competitions on any of the Weekly Games or Away Games are elegible for the Player of the Year system. As all our point systems are based ultimately on the Stableford system, Stroke competitions are converted to Stableford points. This revised system and approved by the AGM in January 12, 2017 will start counting on January 13, 2017.
The POY is system based on Stableford points for ALL rounds played with a minimum of 20 rounds to qualify.
The number of points is divided by the rounds played to determine the average points for the year for any player. For example if you play 30 rounds and your total Stableford points added up for 30 rounds is 850. 850 / 30 = 28.3 average.
Any player who does not turn his/her card in at the end of the road gets 0 points for that round. Of course, if the player is injured or physically sick or there is an emergency so she/he cannot finish the round, then no penalty.
The player with the best average wins the POY.
---
Player of the Year 2014 Winner: Jeff Crosthwaite (Center)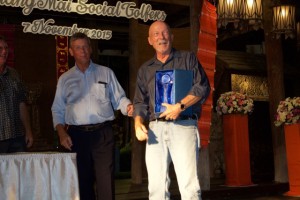 Player of the Year 2015 Winner: Jeff Crosthwaite

Player of the Year 2016 Winner: Julian Wing (left)
---
Current standing for 2017 (only Players with at least 20 rounds are displayed):
| | | |
| --- | --- | --- |
| Name | Rounds played | Average Stableford |
| Ronny Peters | 54 | 32,93 |
| Adam Jackson | 59 | 32,75 |
| Ashley Kim Sing | 35 | 32,17 |
| Graham Adams | 24 | 32,08 |
| Ted Taylor | 43 | 31,86 |
| Nigel Stubbs | 88 | 31,85 |
| Terry Yuill | 21 | 31,76 |
| Milton Reynolds | 38 | 31,71 |
| Joop Schillemans | 50 | 31,44 |
| Leon Smiler | 59 | 31,34 |
| Tom Berger | 72 | 31,13 |
| Craig Morriss | 44 | 31,07 |
| Yung Beece | 32 | 30,84 |
| Jim Hopkins | 26 | 30,62 |
| Frank Schwarz | 56 | 30,61 |
| Peter Haddon | 38 | 30,58 |
| Jomo Mac Dermott | 25 | 30,52 |
| Stuart Duncan | 60 | 30,45 |
| Soren Nielson | 49 | 30,35 |
| Michael Kuzmich | 75 | 30,35 |
| Gary Cooke | 24 | 30,29 |
| Camilla Dwyer | 60 | 30,08 |
| John De Jong | 38 | 30,03 |
| Denise Reynolds | 38 | 29,95 |
| Robert Green | 64 | 29,89 |
| Jeff Crosthwaite | 40 | 29,73 |
| Harry Nieuwland | 21 | 29,67 |
| Brian Heuston | 68 | 29,62 |
| Alex Stewart | 41 | 29,56 |
| Rob Grootenhuijs | 61 | 29,48 |
| Ralph Hamilton | 71 | 29,42 |
| Barry Ralston | 39 | 29,36 |
| Kenny Jones | 50 | 29,32 |
| Curtis Nickel | 36 | 29,19 |
| Lawrence Nahlik | 55 | 29,13 |
| Tayakorn Saenjuy | 27 | 29,07 |
| Garry Walker | 34 | 28,94 |
| Keith Freeman | 60 | 28,78 |
| Steven Bjorge | 64 | 28,73 |
| Jack Cooper | 39 | 28,72 |
| Ian Fraser | 44 | 28,68 |
| Andrew Galwey | 69 | 28,68 |
| Roger Mack | 23 | 28,57 |
| Allan Gariano | 34 | 28,24 |
| Christian Friis | 21 | 28,19 |
| Barry Ochitwa | 27 | 28,11 |
| Ric Cameron | 61 | 28,07 |
| Jack Kuzina | 59 | 28,03 |
| Peter Brown | 25 | 27,88 |
| Keith Taylor | 57 | 27,07 |
| Jumjim Walker | 22 | 26,86 |
| Calvin Davis | 45 | 26,44 |
| Roscoe Butler | 30 | 26,37 |
| Gary Lyon | 25 | 26,08 |