North Hill, 29.09.17
There were 13 members in the clubhouse discussing the weather after arriving in a light shower or two, thunder rumbled and two went home (was that Denise dragging Milton kicking and screaming from the clubhouse) leaving 11 members to tee off at our regular time in a stableford event.  Nice to have Ken Nalder and Chris Kendall giving the course a try out today.  After three holes with the occasional spit of rain the skies began to clear (typical in Chiang Mai) and we played in relatively cool and dry conditions.  The birdie hole still remains unclaimed after twelve weeks but it sure got a scare today when Yung chipped on to leave the ball hanging over the hole but just refusing to drop even with Yung on his knees praying for just another half revolution.  With so few players there were only two prizes today with Brian Heuston taking first with 38 points just pipping Yung on 37 points, tied in third place were Tayakorn Saenjuy and Don Bishop on 34 points.
---
Mae Jo, 29.09.17
Only 9 members for todays game in slightly damp conditions. The scores were low again, a tie for 3rd. on 30 points were Stuart and Nigel in 2nd. was Graham on 31 and our winner for today was Bob on 33 points. Hope to seea few more on Monday. Have a good weekend.
---
Inthanon, 27.09.17
32 members all arrived at Inthanon on schedule resulting in an orderly and on-time start for our September 2017 away match.  The weather was most favorable as we experienced no rain and played the majority of our round under cloudy skies finishing off with some sun shine on our final few holes.  It also should be mentioned that the course (both greens and fairways) was in excellent conditions.
Today we had some impressive scores being posted as follows:
1st place          Leon Smiler              40 points
2nd place        Robert Green            39 points
3rd place         Terry Redding          38 points
4th place tie    Denise Reynolds & Frank Schwarz  36 points
Hats off to all of today's winners!
Next month we will hold our 2017 Annual tournament.  A 2017 Annual Tournament Registration form will be mailed out to our membership in the very near future.  Please complete this subject form and return it asap.
Happy Golfing!
---
North Hill, 25.09.17
7 members for today's round. The winner on 44 was Camilla Dwyer and second on 40 was Ian Fraser.
---
Lanna, 25.09.17
Wonderful playing conditions for Lanna today although the long grass around the fairways was quite challenging and the greens were a touch slow. Welcome back to Lester Twigden after a long absence – he nearly took out the 'birdie hole' that's been going begging for over 3 months now. Today's winner was Kim Stogner with 36 points and Runner-up was Nigel Stubbs with a close 35 points – these 2 guys are always in the photo. Next week is Racecourse week – Stroke 3+1.
---
Mae Jo, 25.09.17
A small turn out for todays stableford round only 9 members. The scores were low as well, in a tie for 3rd. on 31 points were Jim and Graham and our winners today with only 32 points were Frank and Ted. Lets hope that all the bad shots are out of the road and better scores to come !! Don't for get Wednesday is the away game at Doi Intanon, 9am tee off please be there by 8.30.
---
North Hill, 22.09.17
There were 21 members for todays Stableford round.  Nothing unusual weather wise with cloudy skies clearing and humidity on a course in great condition with fast greens.  Good news for members in that prices will remain the same during the high season.  No takers for the birdie hole yet again but it was Milton's turn to have a near miss, shame, always next week.  The winner today was Milton Reynolds with 39 points, second place going to Jack Cooper with 38 points and coming in third and playing to his handicap was Roger Mack.  Some good scores today, well done everyone and see you all real soon.
---
Mae Jo, 22.09.17
16 members and 1 guest for todays stableford round. We had a 3 way tie for 3rd. all on 32 points were Graham,John and Barry in 2nd. was Ronny on 34 and our winner was Nigel on 35 points. Well done although, again, all under handicap scores. Have a good week end , see you all again on Monday for another stableford round. GO CATS AND STORM !!!! Both playing tonight.
---
Inthanon, 20.09.17
Another great day here with hardly anyone on the course except our ten CMSG members. The course is pretty much in good condition although some greens are faster than others. That didn't bother Curtis Nickel who had the best score of 36 with Soren Nielson and Leon Smile sharing Runners Up spot with 34.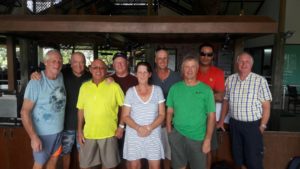 (No results have been sent to be added to the Handicap System)
---
Mae Jo, 20.09.17
14 members and 1 guest today for stableford nassau. Taking out the front was Nigel on 18 points the back was won by Jack on 19 points and a tie for overall on 34 points was Stuart and Jim. Congrats to those people. Jack won the caddy hole on the 2nd. and 6 putted it for no score….not so good Jack ! Ian had a bad turn on the 2nd. and had to go home, hope all is well. Friday will be stableford hope to see you all again then.
---
Lanna, 18.09.17
6 members arrived today for Captain 'Stand in Stubbs'! Lift, clean and paddle was the order of the day for the Stableford event.
Joint runners up with 26 splash points were Barry Ochitwa and Allan Gariano. By a massive margin, with 36 points, was today's winner Kim Stogner. Congratulations to all.
The birdie hole still remains intact for next weeks Stableford on course 1&2.
The stand in also forgot the photograph, sorry chaps!
---
Mae Jo, 18.09.17
Only 6 players for todays round so we decided to play stableford. The weather was looking a lot like rain but we had none. A tie for 2nd. on only 30 points were Frank and Steve and the winner on a mere 35 points was Kuzie. Wednesday will be stableford nassau so we hope to see a lot more people here.
---
Mae Jo, 15.09.17
16 members for todays stableford round in very stickey conditions. In 3rd on 33 points was Garry in 2nd on 34 points was Andy and our winner today was Calvin on 38 points, a big turn around from Wednesday. Well done people. Have a good weekend, see you all on Monday for a stroke nassau round. GO CATS !!!!
---
North Hill, 15.09.17
There were 14 members in todays Stableford event but one withdrawal after 9 suffering dizzy spells, hang in there Don.  The course is in marvelous condition and an absolute joy to play if one could get around the high humidity which was very draining on the energy.  Welcome back to Christian from his little holiday also good to see Dennis & Nachaya making the trip up from Gold Mountain once again to join us.  The birdie hole seems to have got the better of us all once again.  The winner today on 38 points was Camilla Dwyer, coming in second was Roger Mack with 37 points and in third place was Nachaya Suwannakat with 36 points.  Well played all and look forward to seeing you all again soon.
---
Inthanon, 13.09.17
10 CMSG members at Inthanon today for a pleasant morning of golf with great conditions and rock hard greens. Stableford results below – sorry no photograph.
---
Mae Jo, 13.09.17
We had the perfict number of 12 for todays 2 man stableford combined event. In 2nd place on 75 points were Jim and Kuzie and our winners by 1 point on 76 were Jack and Ronny. Well done to all our players. See you all again on Friday for our regular stableford round.
---
North Hill, 11.09.17
9 members today with Lawrence Nahlik being the winner on 33. Second place on 32 went to Brian Heuston, Soren Nielson and Curtis Nickel.
---
Lanna, 11.09.17
Only 7 Lanna hackers today. Course 1 was closed again so we played 2+3 in that order for the only the second time in CMSG history, starting with the Birdie Hole that continues to remain elusive. Today's Runner-Up was Nigel Stubbs with 34 points but the Winner was Keith Freeman with 37 points and a long awaited handicap reduction. Your Captain next week, for 1 week only, will be Nigel Stubbs.
Some of our Caddies are playing Royal Chiang Mai tomorrow, having watched us for many years and seen how not to play!
---
Mae Jo, 11.09.17
14 members played today in a stableford round. Welcome back Tim from the UK and a cameo appearance from Mike Pattevina. We had a tie for 2nd. on 36 points were Jim and Stuart but todays winner was Ronny on 39 points 74 off the stick with 3 birdies. Well done guys, hope to see you all again on Wednesday for a 2 ball combined stableford round.
---
North Hill, 08.09.17
There were 19 members in the event today, welcome back to Mike Ackland, and one visitor from Australia playing today in a Stableford competition under cloudy skies and the accompanying humidity.  Five groups going off front (3) and back (2) all making good time.  The 'birdie hole 15' is still holding up even though Brian Heuston gave it a scare playing gynecologists assistant (shaving the hole) aaah well, maybe next week.  Congratulations go out to Jack Cooper who was today's clear winner with 42 points, well done Jack. There were four tied in second place with 34 points: Yung Beece, Soren Nielsen, Garry Walker and Ralph Hamilton.
---
Mae Jo, 08.09.17
17 members and 1 guest played todays stableford round. The scores were not good ! We had a tie for 2nd. on 32 points were Silvan and Steve and our winner today was Andy on 35 points. Well done to our winners. Have a good weekend and see you all again on Monday for another stableford round.
---
Inthanon, 06.09.17
12 members and 3 guests attended today under bright sunny conditions. The greens are getting better after being cored and sanded the week before last and should be in good shape for the monthly away game here.  Curtis just missed out on 4 birdies but had a creditable 3 in his round. Milton and Denise were back after having hosted a lot of the East coast of Australia these past few weeks.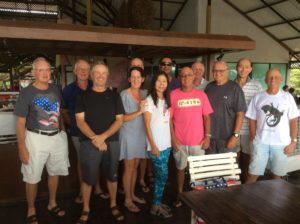 ---
Mae Jo, 06.09.17
13 players for todays stroke round. In a tie for 3rd. was Kuzie and Ronny on a net 74 in 2nd. was Nigel on net 72 but our winner today with a great back 9 was John with a net 68. Well done to todays winners.See you all again on Friday for our usual stableford comp. 2 of our regulars are Australia bound Adam and Ric, safe travels guys.
---
Lanna, 04.09.17
We had 10 members at Lanna today for an unusual round of Course 1 followed by Course 3. There were wet patches everywhere so the balls weren't rolling and scoring was not too great. Unless of course you happen to be our resident low handicapper Nigel Stubbs who managed to come first with Net 75, closely followed by Ashley Kim-Sing with Net 76, and Steven Bjorge with Net 78. Still no takers for the Birdie Hole. See you all next week for the usual Stableford 1+2.
---
Mae Jo, 04.09.17
Only 10 players for todays round, again in very humid conditions. Stableford nassau; the front was taken out by Joop on 21 points and the back was won by Jack also on 21 points, but Jim put us all to shame with a great score of 42 points to take the overall. Hope to see a few more players on Wednesday for a stroke round.
---
Mae Jo, 01.09.17
21 members and 1 guest for todays stableford round in very stickey conditions. In 3rd. place on 35 points was Frank and a tie for 1st. on 37 points were Ted and Ronny. Well done to todays winners. Have a good weekend see you all again on Monday for stableford nassau round.
---
North Hill, 01.09.17
Today there were 17 members in our Stableford Nassau event, two of which got lost and turned up too late to be in the prize event but caught up to the field on the day.  In their hurry to catch up, Dennis did his best by getting an Eagle on the first and our congratulations go out to him.  Also tagging the field were Milton and Denise with their four friends from Australia who have been enjoying the local courses and hospitality in Chiang Mai and I might add that one of the ladies Janet had a "Hole in One" at Inthanon the other day.
Todays overall winners were Camilla Dwyer and Leon Smiler tied on 39 points, the front nine going to yours truly Garry Walker with 21 points and the back nine going to Don Bishop with 19 points who very kindly donated his prize to the CMSG charity.
---